DEVELOP YOUR PROJECTS WITH US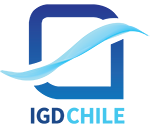 IGD CHILE S.A. declares its commitment in services of study of proposals, planning and elaboration of projects
engineering that meet the needs and expectations of the client, through the establishment of a Quality, Safety, Occupational Health and Environment Management System in accordance with ISO 9001:2015, ISO 14001:2015 and ISO 45001 standards: 2018.
Given the foregoing, the policy of IGD CHILE S.A states that:
It undertakes to comply with current legislation and requirements for greater effectiveness of the Management System
Integrated.
Our company provides a frame of reference in the establishment and revision of the Integrated Objectives.
Responsibly satisfies the requirements and expectations of our customers in the quality of our services.
Evaluates processes periodically in order to continuously improve and ensure the best levels of Quality, Environmental Conservation and Safety within the organization.
It has the necessary procedures to act in the event of possible emergencies, in order to protect the safety and health of our workers.
Prevents pollution to the environment, identifying and controlling those environmental aspects of our activities.
Promotes innovation in all areas and levels of the organization.
It is communicated and disseminated within the company through meetings and virtual platforms, providing the
Direct strengthening with people given their participation.
IGD CHILE S.A. assumes these commitments to provide a better service to its customers and continuously improve
the working conditions of its workers, respecting the communities and their environment where they are provided services.